Please contact Ms. Lucia regarding our classes @ 609-364-1776
.
Winter Mixed Age  (8 mo – 5 yrs)  Class Schedule 
Wed  at 10 AM  – begin 10\11
Friday Nights  at 5 PM  – begins 11\13
Saturdays at 10 AM  – begins 11\14
Fall  Rhythm Kids  (ages 4-6) Class Schedule
Tuesdays at 5 PM indoors – begin 10\10
Mixed-Age Music Classes  Each week in Music Together Mixed-Age Classes, babies, toddlers, preschoolers, and the grownups who love them gather for 45 minutes of fun-filled family music time. Your teacher will lead you and the other families in music activities ranging from lullabies to full-on jam sessions (with child-friendly instruments, of course!). It's so much fun you won't realize how much learning is taking place! You'll take home the award-winning music used in class, along with an illustrated songbook and other resources. As you discover new ways to play with music all week long, you'll be supporting your child's music learning and overall development—even if you don't think of yourself as a great singer or dancer.
Why mixed ages? Child development researchers discovered that grouping child of different ages in
one class encourages natural, family-style learning, so Music Together developed the Mixed-Age Music Class. In this class, everyone participates at their own levels: babies vocalize, listen, and observe; toddlers play and experiment, and preschoolers build confidence as they emerge as classroom leaders. Grownups are happy because everyone can come to class together! 
Music Classes for Big Kids
Rhythm Kids® (Ages 4–5 and Grades K–2)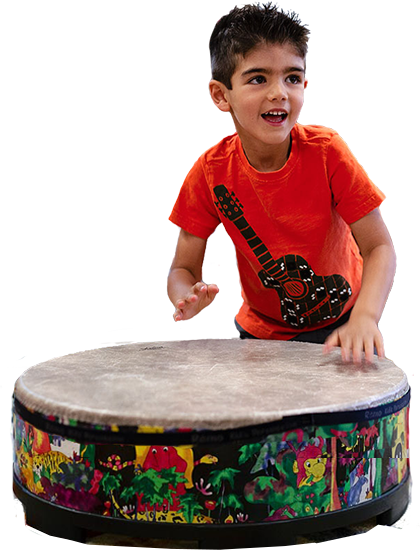 Big kids know what they like. Telling silly stories. Playing games. Being in charge. Designed specifically for pre-K and early elementary students, our active Rhythm Kids classes for big kids tap into how children this age are wired to learn, with music games, animal rhythm stories, and lots of stomping-flying-climbing fun. Rhythm Kids is taught both in person and online (availability based on location). Click the following link to find an online class location. 
Rhythm Kids is just the thing to get your child to (willingly) put down the iPad and start making music with their friends. By the end of the semester, they'll be proud to show off what they've learned: to you, their friends and teachers, and—let's face it—for some kids, every person they meet!
Rhythm Kids Music Classes for Big Kids
In each weekly music class, we drum, sing, move, and play to rhythms inspired by musical traditions around the world, from West African Gahu, to Japanese Taiko, to Brazilian Samba, just to name a few.
Music Together® art & logo design © 1992-2022 Music Together LLC. Music Together is a registered trademark. Music Together  Vineland is licensed by Music Together LLC. For more locations: www.musictogether.com – (800) 728-2692